Wednesday, April 18, 2001
Wow! I've been so busy! I can't believe it's been 3 months since my last update!

Well, January didn't start off that great. Ana got a rash & when we went to the Dr., she caught croup! Then while trying to get her medicine, we all ended up with double flu!!! Fortunately, my mom was able to help out around our house a lot (while taking breaks from taking care of Daddy who had it too)! Unfortunately, Mitch didn't get sick until AFTER he butchered the boys hair!
Now the kids favorite game is giving everyone "pretend" haircuts! (2nd favorite is pretending to go to Burger King.)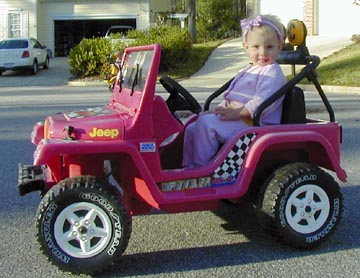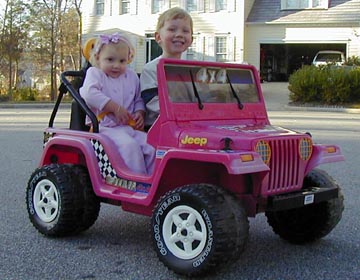 The good parts of being sick (besides losing weight) was that Mitch spent a lot of time on the CPU & found Ana this car for only 20 bucks! Now we all have our own cars!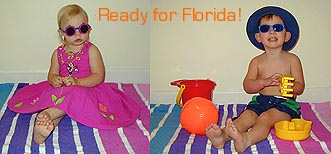 Febuary. We took a trip to Florida (driving for 2 days isn't bad when you have a TV, plenty of Barney, Elmo & Teletubies tapes, a cooler of juice & lots of snacks!) to meet my relatives & see some friends.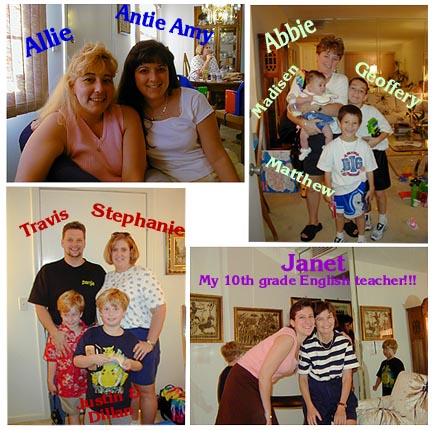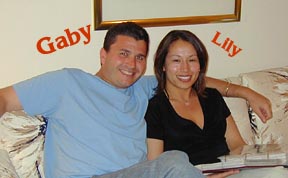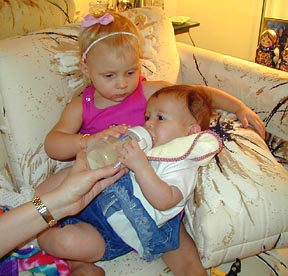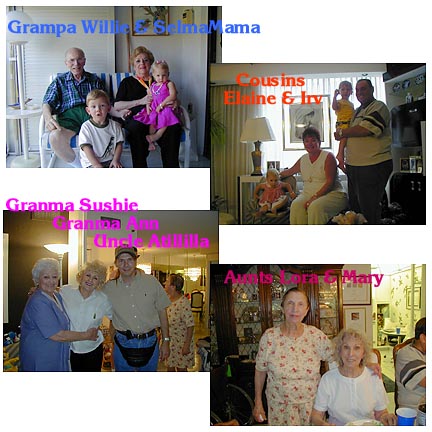 When we got home Mitch's mom ("Mamma Pooper" to the kids, my mom is "Mamma Right Back") came to visit. The day she came my Aunt, Uncle & cousins had a layover so we spent 1/2 the day at the airport. It's the 1st time they've been to the airport since we came home & I was afraid they'd think we were sending them back but they had a great time! In fact, everytime we see an airplane now, Ana sings "Happy to you Alan" (her version of happy birthday to my uncle)!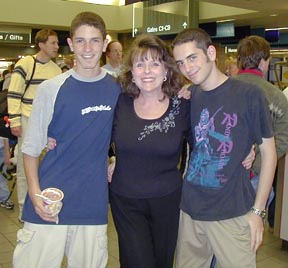 Besides visiting & being visited, Feb. was very busy because we sold our house & the kids bacame American citizens!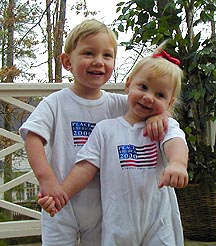 One month later we got the paperwork back from the state that the North Carolina Readoption paperwork went through! Now they are ours in 2 languages!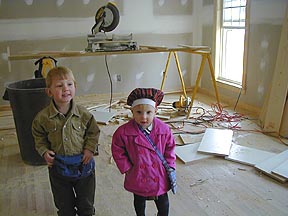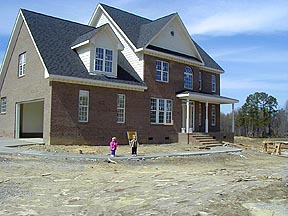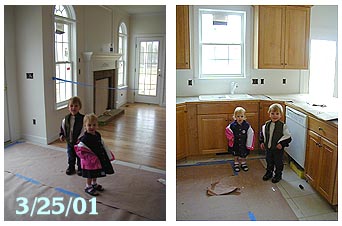 Thats the house7, 5 & 3 weeks ago. I can hardly believe that we are moving in a few days! I guess we all know what the next update will be about! Whenever I have time to write one! Meanwhile, whenever I'm packing I have to put out an extra box for the kids to "pack" their toys. Otherwise they try to help with the crystal! Eeek!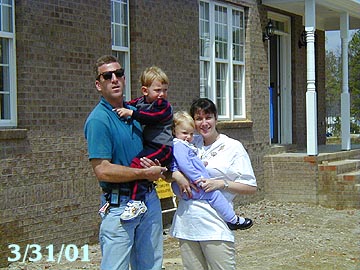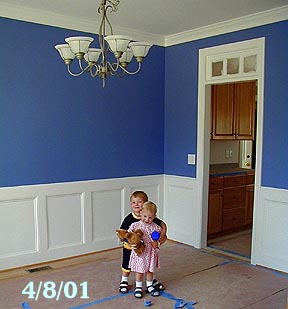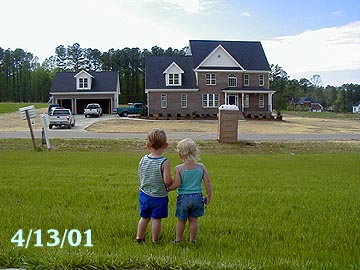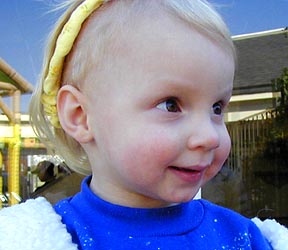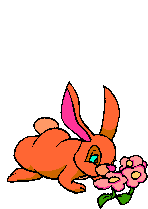 ANA

She's such a funny little bean! She's always making faces and she has such a great sense of humor! She has the cutest little tinkley laugh when she's happy & this really funny belly laugh when she's doing something silly.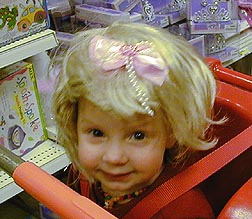 I ask her if she's possessed & she sticks out her tongue, throws back her head and goes "ha ha ha ha".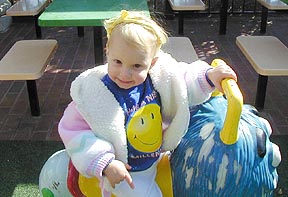 Her new thing now is whenever I ask her a question her response is "huh?". And when she goes to bed she sings to herself in whispers. She's gotten so soft that the moniter doesn't even light up & we think she's asleep until she starts singing "BINGO". The clapping always gives her away! And she's getting so smart! She can count to 13 & knows most of her colors! But when she's in a bad mood and hurts herself (which happens often since she's always falling down & running into things in her rush to play) she's like a totally different child! First she starts to cry, then she starts screaming "mommy" and reaching out for me (even if I'm already holding her), then she stares up at the ceiling, then she'll start to laugh which promtly turns into crying, then the thumb goes in the mouth & she pretends to be asleep. After that, it's back to normal. Very strange! But at least she doesn't bite which is more than we can say for the little boy at McDonalds that jumped her in the ball pit! I saw the whole thing and couldn't get to her to pry the kid off because of the way it's enclosed & you can only get in by going through a tube! We don't play there anymore!
And her hair is finally growing! No ponytails yet but check out her french twist!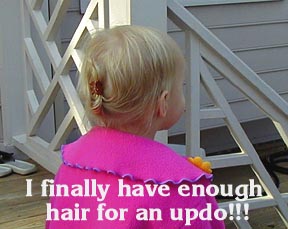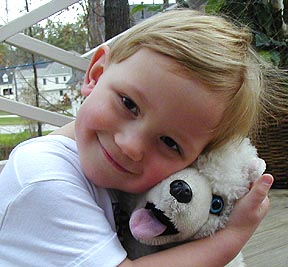 ALEK

He can be so sweet and loving (when he's not getting innto trouble)! His new thing is to climb into bed with me after Mitch leaves for work & when I start to wake up he puts both hands on my face, kisses me & says "Mama, good nap?"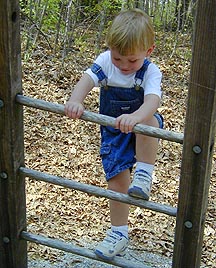 His favorite new sayings are "no be-tyme" for no bedtime (which he says all day long!), "kay" for OK (which is his answer for everything, "don't touch" (which he says AFTER he touches off limit stuff), & "NO PAPA" while pointing at him which really doesn't bode well with Mitchell! He can count to 4 (10 if he doesn't know I can hear him) & when he says he has to "make" (used to be ka-ka until he met my grandmothers) he pronounces it "maTe" which gets a lot of strange looks out in public. Think about it, you're shopping and your child screams out "Mate mama, mate now"!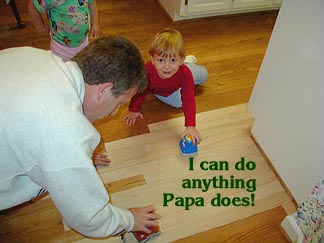 He's also a very good helper & trys to do everything Papa does! And when we were looking at new tile (big screw up there, don't get me started) we were walking around with the countertop sample chips comparing them to the tile to see what would match & I noticed that Alek had taken a business card off someones desk and was walking around holding it up to the tile! It was so cute!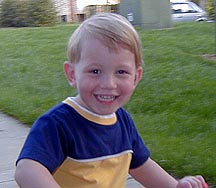 BOTH
Potty training has been going well. They love sitting on the "new potty" & the moment they saw the new underpants they told me "no pee pee, no poo poo". Well, at least they're sticking to th e 2nd part. The 1st still needs work so sometimes we switch to pull ups. Alek is doing great, he's gone up to 48 hours with no accidents!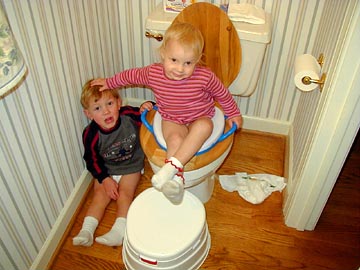 Sometimes my parents will babysit the kids during the day so we can do house stuff & I'm really looking forward to trying it at night once we're all settled in! I hope we remember how to eat without cutting up the food first!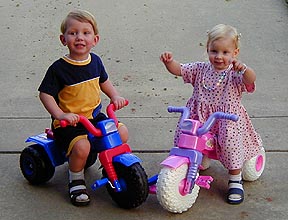 I love being home with them all the time but sometimes I get a little bit silly. Luckily, my mother-in-law just treated the kids to a semester at Gymboree for an early Alek b-day present. We started last week & the kids had a blast!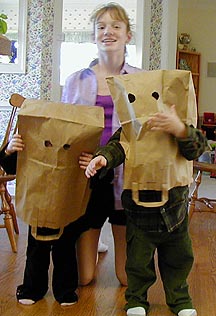 They sang along on their very first day. They also sing with their favorite TV shows and when Barney sings about "a great big hug" they run to hug each other! And when the kids wish to go to dragonland on DragonTales, they run to hold hands & yell "I wish, I wish". Which is much cuter that when I say "who broke this?" & they both answer "(the other) did it"!

I had the kids tested at the Developmental Education Center and got the results last month. For privacy purposes I won't post the results but they both did well. Our mail concerns were in speech development & we were surprised to find out Ana is right on target for her age. Alek is very behind but catching up fast & he did great in other areas.

And I just have to throw in that they've started helping me feed the dogs! It takes twice as long but they're so proud after helping me!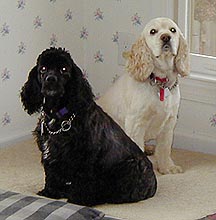 That's all for now! 'Till next time at the new house...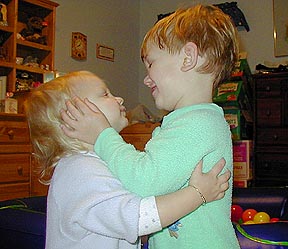 BACK TO UPDATES