Tuesday, December 5, 2000
Wow, we've been home almost 6 months!!!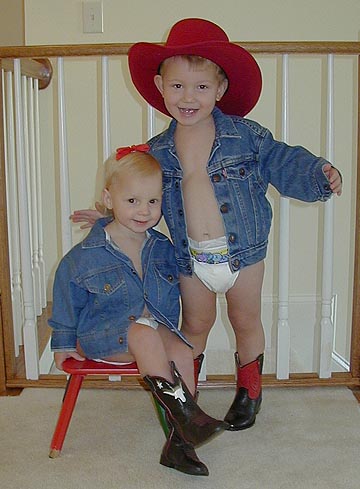 November wasn't very busy for us. 90% of our plans got canceled because the kids were sick and they didn't want our kids to get sick too. I don't know how, but they got sick anyway!!! Only one day after we had about 4" of snow and we ended up at the Dr. office! I hope it's not a cold winter or we may have to take up residence in their lobby!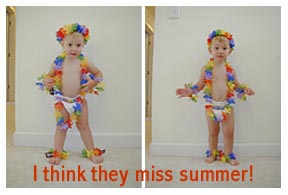 We did get to see our friends Rachel & Daniel one day and found out that our new house is only 8 miles away, even closer to some other friends houses! And they actually started the footings and foundation on our house! Hopefully they will begin framing next week!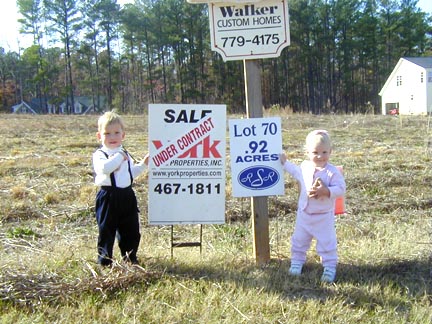 On the day Alek turned 2 1/2, Mitch brought home one of those battery powered ride in cars for Alek that one of his Ukrainian friends from work gave him (his son outgrew it). Alek loves it! He rides around with the biggest smile on his face yelling "Alek car!" Now we need to find one for Ana!
Thanksgiving was nice. We tried to watch the parade (and The Wizard Of Oz a few nights before) but the kids just don't have any interest in TV unless it's Teletubies (it's scarry how they just stop what they are doing when it comes on and stare blankly at the TV, occasionally saying things like "la-la" and "oooh"!) Anyway, I think I'm the only parent in the world that spent Thanksgiving yelling at the kids "no! put down those toys and watch TV!!!" (Which is probably why Alek now yells at me "Mama! TV on now . . . please!)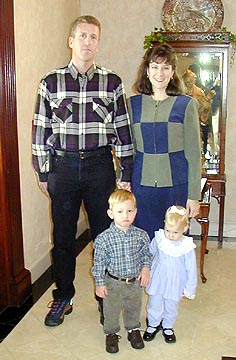 We went to the country club with my parents, Howie & his dad for (as Mitch puts it) the traditional Thanksgiving shrimp! Mitch had been practicing with the kids so that they would make belching and other gashous sounds on command. It was quite embarassing. Especially when he yells "sea food" and they open up their mouths and stick out their food covered tounges!!! (At least he didn't have them bang on the table yelling "ma-ma, ma-ma, ma-ma" like he does at home.) I thought parenthood was supposed to make you grow up, not regress! Maybe it's because he's never had to deal with diapers or been alone with both of them!!!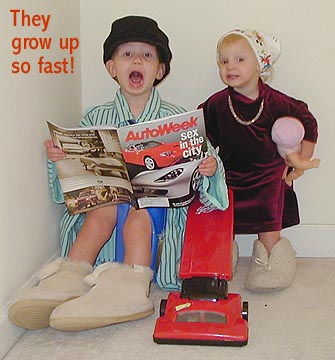 We had 3 sets of friends go to Ukraine this month (snif, snif... all my protegies are gone... anyone else need advice?). One couple got a boy 2 and a girl 4, another a boy 5 months, and the third are still there getting a girl. Our kids will have lots of new playmates!

The kids are playing happily right now making a mess of the living room. We bought a toy bin thingy to organize all of the kids little toys. It has all of these little bins in it and I tried to separate everything into types of toys. I then explained to them that they could each take 1 bin at a time over to the table and play with what was inside. Well, I walked into the kitchen and heard a lot of crashing sounds. I turned around just in time to see the 4th bin being dumped onto the floor! Once again I explained and gave them each a bin. This time I stayed right there! Until 20 minutes later when I got tired of them picking out a bin, putting it on the table, putting their hands in and making a lot of noise, then saying "um, no" and wanting a different bin! Oh well... I tried!

BTW, Ana walks around singing all of the time now! And Alek pretends to be offended when Ana won't do what he wants and FAKE cries (while smiling) until she comes over to give him a kiss! Sometimes it goes on for a very long time! Also, they are constantly saying thank you for everything. "Thanks Mama, Thanks Papa..." all day long, it's driving Mitch crazy!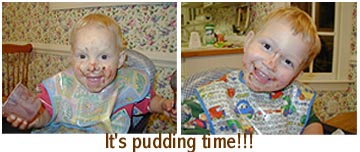 On Nov. 30th, my dad had heart surgery. They were afraid he'd need bypass put it turned out to just be an angiogram (what they found was scar tissue from his last angioplasty, not a new blockage) so we are all very happy, now we just have to get him to exercise!!! We spent the whole day at the hospital and the kids were so well behaved! I have to say, they definately made the day go by faster and kept everyone from getting too worried! (Especially when Dad started to snore & the kids started yelling "BopBop pooped! BopBop go ka-ka!" Also, when Ana chased a heavy older woman in a wheelchair down the hall yelling "Lady, no baby!", she thought the chair was a baby stroller!)

Well, that's about it for now. We are going up to New York Dec. 7th-11th to see Mitchell's family and are planning on a January of February trip to Florida to see mine.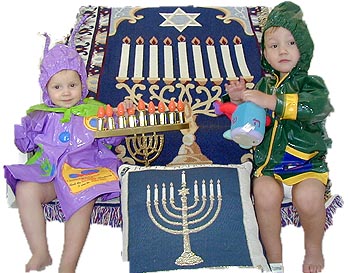 Happy Chanukah!

BACK TO UPDATES